Home
2023 3rd International Conference on Signal Image Processing and Communication
(ICSIPC 2023)
Conference Information
Website: www.icsipc.org
Conference Date: May 26-28, 2023
Venue: Zhengzhou, China
Submission Deadline: March 29, 2023
Indexing: EI Compendex/ Scopus
Following the success of the ICSIPC2021 and ICSIPC2022, 2023 3rd International Conference on Signal Image Processing and Communication(ICSIPC 2023)will be held on May 26-28, 2023, in Zhengzhou, China. ICSIPC 2023 aims to bring together innovative academics and industrial experts in the field of Signal Image Processing and Communication in a common forum. The primary goal of the conference is to promote research and developmental activities in Signal Image Processing and Communication. Another goal is to promote scientific information interchange between researchers, developers, engineers, students, and practitioners worldwide. Every year, the conference will be held to make it an ideal platform for people to share views and experiences in Signal Image Processing and Communication, and related areas.
Index
● ICSIPC2021, 2022 conference proceedings have been indexed by EI Compendex/SCOPUS.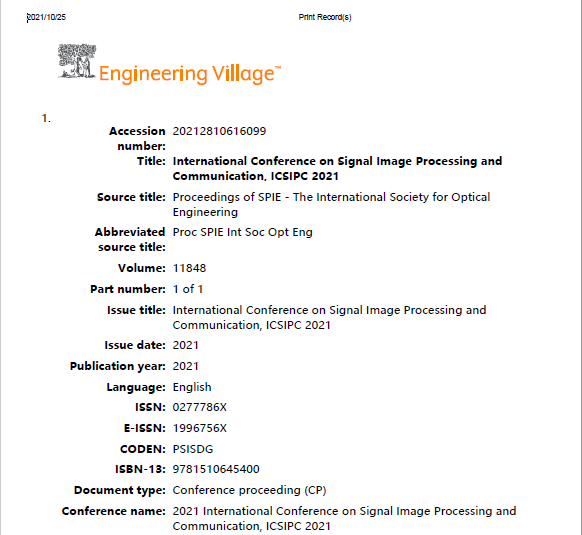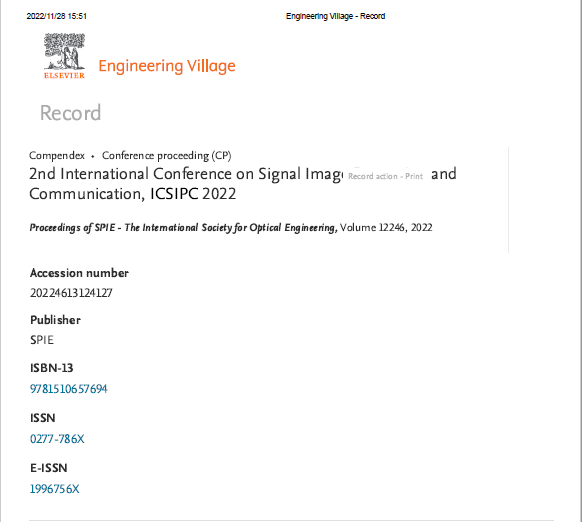 Keynote Speakers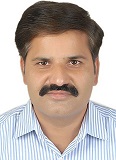 Prof. Ram Bilas Pachori
Indian Institute of Technology Indore, India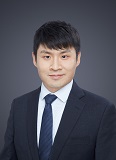 Prof. Gang Wang
Beijing Institute of Technology, China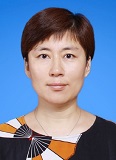 Assoc. Prof. Lamei Zhang
Harbin Institute of Technology, China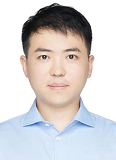 Assoc. Prof. Lei Chen
Shandong University, China
Call For Paper
Digital Signal Processing
Image and Multidimensional Signal Processing
Image/Video Processing and Coding
Modulation and Channel Coding
Image Processing and Pattern Recognition
3D and Stereo Imaging
Image compression, coding, and encryption
Ultra-Wideband Communications
Multimedia Communications
Infrastructure for Next Generation Networks
Cryptography and Network Security
Green Communication
Mobile Communication
Other Related Topics

Publication

All papers will be reviewed by two or three experts from the committees. After a careful reviewing process, all accepted papers will be published in SPIE - The International Society for Optical Engineering (ISSN: 0277-786X) and submitted to EI Compendex, Scopus for indexing.
Note: All submitted articles should report original, previously unpublished research results, experimental or theoretical. Articles submitted to the conference should meet these criteria and must not be under consideration for publication elsewhere. We firmly believe that ethical conduct is the most essential virtual of any academic. Hence any act of plagiarism is a totally unacceptable academic misconduct and cannot be tolerated.
Submission Methods
1.The submitted papers must not be under consideration elsewhere.
2.Please send the full paper(word+pdf) to SUBMISSION SYSTEM
3.Please submit the full paper, if presentation and publication are both needed.
4.Please submit the abstract only, if you just want to make presentations.
5.Should you have any questions, or you need any materials in English, please contact us at contact_icsipc@163.com
Registration
For the publication on ICSIPC2023 conference proceedings:
| | | |
| --- | --- | --- |
| Items | Registration fee (By RMB) | Registration fee (By US Dollar) |
| Regular Registration (4-6 pages) | 3400RMB/per paper | 500 USD/per paper |
| Extra Pages (Begin at Page 7) | 300RMB/per extra page | 50 USD/ per extra page |
| Attendees without Papers | 1200RMB/per person | 180 USD / per person |
| Attendees without Papers (Groups) | 1000RMB/per person(≥ 3 persons) | 150 USD / per person(≥ 3 persons) |
Program
Schedule

May 26

13:30-17:00

Registration

May 27

09:00-12:00

Speeches of Keynote Speakers

12:00-14:00

Lunch

14:00-17:30

Oral Presentations

18:00-19:30

Banquet

May 28

09:00-18:00

Social Events
CONTACT US