CONFERENCE INFORMATION:
Website:http://www.isneet.org/
Conference Date:September 18-20, 2020
Venue: Changsha
Indexing:EI, Scopus
2020 International Symposium on New Energy and Electrical Technology(ISNEET 2020)will be held on September 18-20, 2020 in Changsha, China. ISNEET 2020 welcomes researchers, engineers, scientists and industry professionals to an open forum where advances in the field of New Energy and Electrical Technology can be shared and examined. The conference is an ideal platform for keeping up with advances and changes to a consistently morphing field. Leading researchers and industry experts from around the globe will be presenting the latest studies through papers and oral presentations.
1.Organizers
Keynote Speaker
Dr. Thanikaivelan Palanisamy
CSIR-Central Leather Research Institute, India
Speech title: Collagen Derived Advanced Materials for Energy and Environmental Applications
Dr. Ruomei Li
Tsinghua University, China
Speech title: The Role of Human Nature in the Energy Revolution
2.CALL FOR PAPER
New energy resources
01) Hydropower
02) Shale gas
03) Solar energy
Energy Science and Energy Technology
01) Solar Energy Engineering
02) Biomass Energy Engineering
03) Wind Energy Engineering
Energy management
01) Carbon tax
02) Energy education
03) Energy economics
Electrical Systems
01) Machine System Modeling
02) Renewable Energy Systems
03) Energy Efficiency Systems
Other Related Research……
3.Publication
Submit to the Conference | EI会议论文
Papers submitted to ISNEET2020 will be reviewed by technical committees of the conference.
All accepted full papers will be published in IOP Conference Series: Earth and Environmental Science (EES) (Online ISSN: 1755-1315 Print ISSN: 1755-1307) (To be confirmed) and will be submitted to EI / Scopus for indexing.
Submit to the SCI journal | SCI期刊
Submission with notes of conference acronyms will enjoy priority in review and acceptance.
Excellent papers will be recommended directly to the following or other suitable SCI journals
◢ Journal 1:Journal of Coastal Rresearch(ISSN: 1551-5036, IF=1.053,专刊)
◢ Journal 2:Energies (ISSN: 1996-1073, IF=2.707,正刊)
◢ Journal 3:Environmental Science and Pollution Research(ISSN: 0944-1344, IF=2.914,正刊)
◢ Submission should be in WORD(.doc)format only, and specified templates will be given after evaluation.
◢ Online submission【AIS online submission】
For more information about SCI papers and journals, please feel free to contact Editor Li(WeChat/Mobile phone): 18127812811/ Editor Lin(WeChat/Mobile phone): 13922157504.
4.Submission Methods
1.The submitted papers must not be under consideration elsewhere.
2.Please send the full paper(word+pdf) and to AIS Submission System.
3.Please submit the full paper, if presentation and publication are both needed.
4.Please submit the abstract only, if you just want to make presentations.
5.Should you have any questions, or you need any materials in English, please contact us atcontact@isneet.org
Note:
1.Papers submitted to the conference should be in English.
2.Both Abstract and Full Paper are welcomed. The author can make an oral presentation after the Abstract is accepted and the payment is finished.
3.All submitted articles should report original, previously unpublished research results, experimental or theoretical. Articles submitted to the conference should meet these criteria and must not be under consideration for publication elsewhere. We firmly believe that ethical conduct is the most essential virtual of any academic. Hence any act of plagiarism is a totally unacceptable academic misconduct and cannot be tolerated.
5.Registration
For the publication on conference proceedings:
Items

Registration fee

Registration fee

(By US Dollar)

Regular Registration(6 pages)

3000RMB/ per paper

450 USD/per paper

Additional Paper(6 pages)

2800RMB/ per paper

420USD/ per paper

Extra Pages (Begin at Page 7)

300RMB/ per extra page

50 USD/ per extra page

Attendees without Papers

1200RMB/ per person

180 USD / per person

Attendees without Papers (Groups)

1000RMB/ per person

(≥ 3 persons)

150 USD / per person

(≥ 3 persons)

Purchase Extra Journal

500RMB/ book

75 USD/book

6.Program

Schedule

September 18

13:00-17:00

Registration

September 19

09:00-12:00

Speeches of Keynote Speakers

12:00-14:00

Lunch

14:00-17:30

Oral Presentations

18:00-19:30

Banquet

September 20

09:00-12:00

Academic Investigation
Venue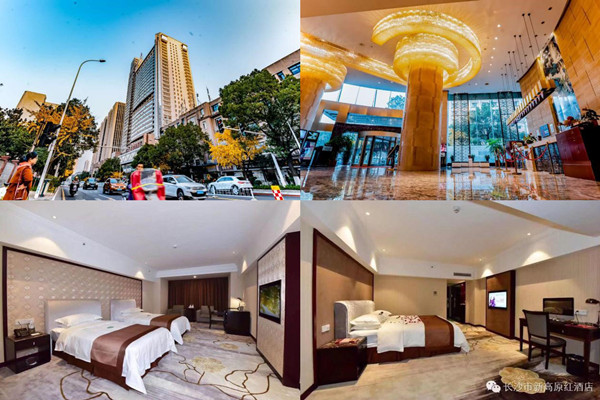 Ⅰ. Information:
Gaoyuanhong Hotel :
Hotel Website:click
Tel:0731-82766666
Address: No. 383, Bayi Zhong Lu, Furong District, Changsha
>> Standard single room: RMB 288 / night (about USD 42 / night). (One beds, Internet and two breakfast included)
>> Standard double room: RMB 288 / night (about USD 42 / night). (Two beds, Internet and two breakfast included)
Ⅱ. Room Booking:
You can make a reservation by calling the front desk 0731-82766666 before Sep. 13th, please tell that you are a guest of "AEIC Changsha Academic Conference", and then can enjoy the agreed price.
Ⅲ. Direction:
* Huanghua International Airport : 27km ; 40mins
* Changsha Railway Station : 3km ; 10mins
* Changsha South Railway Station : 16km ; 35mins
Ⅳ. Tips:
For non-Chinese Attendees, "Bring me to the hotel" card is available. You can show it to the taxi drivers and they will take you to the hotel.
7.CONTACT US
Conference Secretary: Cathy Xiong
E-mail: contact@isneet.org(咨询)
Mobile: +86 18818846285
Wechat: 86 18818846285
QQ: 1359308739
Website: http://www.isneet.org/